The Muslim-majority state of Pakistan was born out of the partition of the Indian sub-continent in 1947, and has faced both domestic political upheavals and regional confrontations.
Pakistan's economy continued to grow in FY18, reaching 5.8 percent. Growth was driven by higher consumption demand, fueled by accommodative fiscal and monetary policies, resulting in widening macroeconomic imbalances.
What are the development challenges in Pakistan?
The tribal districts of Khyber Pakhtunkhwa province (KP), formerly known as Federally Administered Tribal Areas (FATA), are amongst the least developed regions within the country.
How does Alliance2015 help?
The outbreak of Covid-19 in Pakistan: Cesvi and Helvetas's action
Military operations from 2009 onwards led to the displacement of over 5 million people. Over time, some areas have been cleared by the military as suitable for rehabilitation: this has led to masses, which were displaced across KP, to return to their areas of origin. After years of massive destruction, restarting a new life in the damaged areas of return is the major challenge faced by returnees' communities. Water, Sanitation, and Hygiene condition are inadequate, affecting the community's overall wellbeing, health, and resilience, in particular, due to a lack of clean drinking water, poor hygiene conditions, and diseases' presence, which are seriously impacting the vulnerable groups.
WASH Response
Hence WASH emerged as the top priority need of the returned families which cannot resolve this without external support: Cesvi and Helvetas, together with local partners, are addressing the unmet needs related to drinking water, appropriate sanitation facilities at health centers and schools, through rehabilitation and provision of adequate water and sanitation facilities and spread of good hygiene practices.
Relief Assistance for Vulnerable Returnees Affected during Peace Operations in Tribal Districts of KP, Pakistan
The project consists of two prolonged interventions to rehabilitate the communal water infrastructure, sanitation facilities in schools and health centres and to work on the behavior change to improve WASH & hygiene situation.
In April 2020, the project has been further adapted in response to the Covid-19 pandemic emergency, foreseeing:
– the installment of 60 latrines with the provision of water and Power Generators in 4 quarantine centers;
– the provision of PPEs to the hospitals for the Health Care Professionals (5.000 masks, 2.000 gloves, 1.000 sanitizer, 300 Tyvek Suits, 100 Rubber Long Shoes, 2.000 Head Covers, 2.000 shoe Covers, 1.000 soap, etc.);
– the creation of 250 Banners with Messages on COVID-19 Risk Communication and awareness-raising.
– a further provision of PPEs for 06 Quarantine Centres in Landi Kotal, Khyber Tribal District through PDMA (10 Thermal Guns, 2.000 Surgical Masks, 500 Tyvek Suits, 500 Eye Protective Goggles, 1.000 Bottles Sanitizers, 100 Rubber Shoes, 100 First Aid Boxes, 50 Water Coolers, etc..)
– the provision of power back up to Quarantine Centres Landi Kotal, Khyber Tribal District (07 25-50 KVA Rental Generators)
– the provision of 1000 COVID-19 prevention Kits for Paramedics Staff through PDMA Peshawar (1.000 N95 Masks, 1.000 Tyvek Suits, 1.000 Rubber Shoes, 1.000 Eye Protective Goggles, 1.000 Sanitizers, 1.000 Rubber shoes, etc..)
In addition, innovative paddle operated handwash stations have been created for use in quarantine centers where these stations will be installed on drainage systems to ensure proper disposal of used water. More of these handwash stations are being prepared to be installed at places meant to provide public services – such as municipality office, hospitals, post office, courts, police station, education institutions, etc.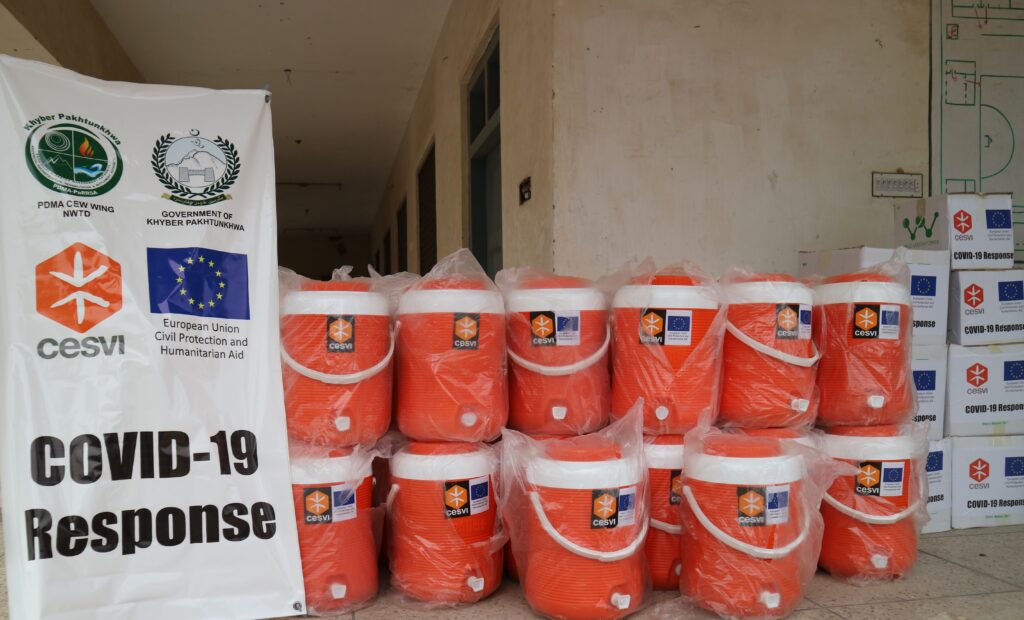 Furthermore, due to the high demand in this emergency and absolutely no availability of Tyvek suits on the market, HELVETAS encouraged skilled individuals to stitch personal protection robes for doctors and other medical professionals. Around 3000 robes were produced by these tailors that provided them an opportunity to earn money while sitting at home in the lockdown situation as well as improve their technical skills in stitching new products other than regular product lines. The same group also successfully prepared surgical masks. (single/double ply). These Tyvek robes and masks were donated to doctors in South Waziristan, Khyber, DI Khan.
---
About RAST project
Relief Assistance for Vulnerable Returnees Affected during Peace Operations in Tribal Districts of KP, Pakistan (RAST) is implemented by Alliance2015 members Cesvi and HELVETAS, in partnership with ESHAR Foundation and Participatory Rural Development Society (PRDS). It is funded by ECHO (EU Civil Protection and Humanitarian Aid Operations).
Beneficiaries
Thanks to Cesvi and Helvetas, collaborating with local partners ESHAR Foundation and Participatory Rural Development Society (PRDS), 7,940 households (34,419 women, 33,070 men) will benefit from the rehabilitation of communal water sources (tube-well based), 1900 school children (969 girl students, 931 boys' students) will receive access to appropriate sanitation facilities in schools while directly 14,880 individuals will be reached through hygiene promotion messages.