A localized conflict that started in the Donbass region in 2014 escalated into a large-scale aggression on February 24, 2022. The weeks that followed February 24 submerged the whole country into a full-scale humanitarian and political crisis.
A year later, more than 7 million people have been forcibly displaced inside Ukraine. Millions have fled to neighboring countries — mainly Poland, Moldova and Romania — as well as other European countries. An innumerable amount of people have lost their loved ones, their lives, their homes.
Alliance2015 launched immediate support for the first large-scale humanitarian crisis in Europe since the Second World War. The response was quick and targeted the most affected with essentials. The ability to respond in the earliest stages of the war was facilitated by the presence in Ukraine of two Alliance2015 members, ACTED and People in Need (PIN).
The war we're witnessing today erupted from the conflict in eastern Ukraine that began in 2014. PIN has been present since then, and ACTED arrived in 2015, responding to the emergency and longer-term needs of vulnerable, marginalized and conflict-affected populations living near the Line of Contact (LoC) in Donetsk and Luhansk oblasts.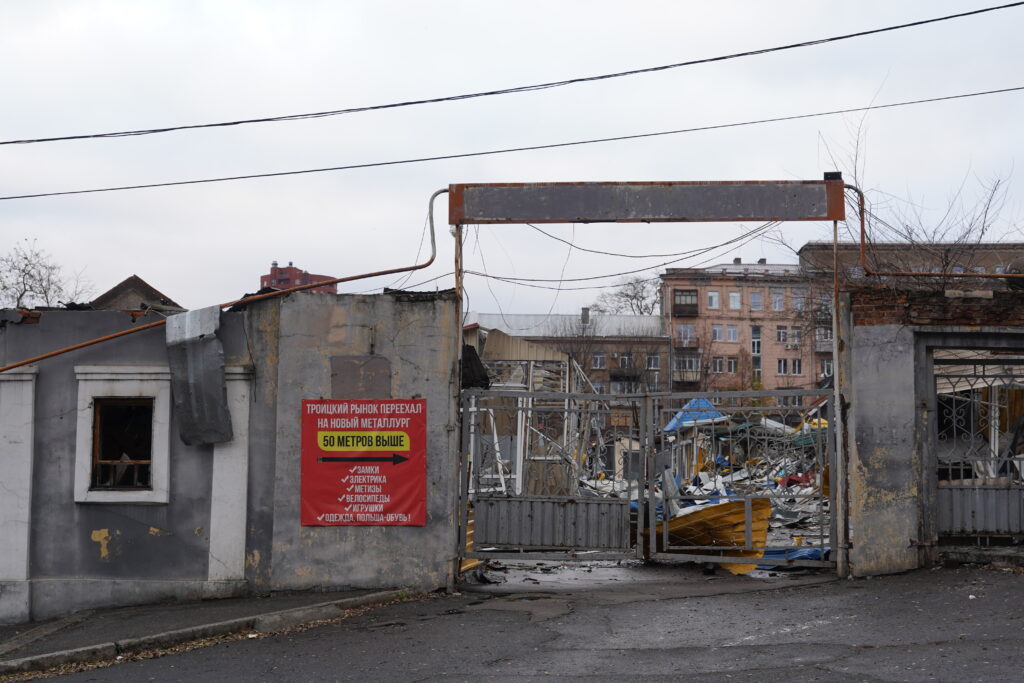 Both ACTED and PIN are part of the Alliance2015, a strategic and operational network that gathers seven like-minded European-based NGOs (ACTED, Ayuda en Acción, Cesvi, Concern Worldwide, HELVETAS, People in Need and Welthungerhilfe). Alliance2015 members regularly implement joint projects in various countries to deliver emergency responses or carry out development initiatives.
After February 2022 both ACTED and PIN relocated their Ukrainian teams to safer areas and upscaled their activities. The NGOs opened bases and began carrying out activities in and around Kyiv oblast, in Kharkiv, Dnipro, Mykolaiv, Odesa, Vinnytsia, Lviv and Chernivtsi Oblast. The teams responding to this crisis carried out activities while navigating the realities of living and working in an ongoing conflict setting where air raid alarms sound regularly and they have to quickly take cover during missile attacks.
Alliance2015: Organizing a multi-sectoral assistance to respond to a multifaceted humanitarian crisis
Alliance2015's first funded project responded to the immediate needs sparked by the eruption of the conflict. This project, which started in March a few days after hostilities began, was comprised of all Alliance2015 members.
The biggest initial challenge was to identify landing points where internally displaced persons (IDPs) could settle and receive assistance. Since the humanitarian crisis started during winter, leaving people fleeing in freezing temperatures with just a bag and what they had on their backs, the focus was to provide warm spaces. Alliance2015 worked to rehabilitate buildings to house IDPs. ACTED led the response with multipurpose cash activities, hot meal distributions, support to local and civil society organizations, and distribution of hygiene kits and non-food items. The response included:
5,000 hot meals delivered in targeted cities that are landing points for internally displaced persons, such as Lviv, Rivne and Odesa.
In eastern Ukraine: 1,500 families supported with household hygiene kits in Odesa and Dnipro areas (containing items such as soap, face masks, menstrual items and washing powder kits…).
800 families received non-food kits containing items such as blankets, buckets and kitchen sets in the same areas.
24 local civil society organizations were supported by this consortium through distribution of material in strategic areas such as Zaporizhzhia, Dnipro, Kirovohrad, Chernihiv, and Kharkiv.
Distribution of cash assistance directly reached 13,962 people.
"Before the fighting began, Kharkiv was a flourishing industrial city of nearly 2 million people. But now it is dangerous there. Explosions are constantly heard and people are dying. Most of the city is mined. I worry about my children's psychological state; they are scared to go to sleep at night."

Elena, 39, who was a kindergarten teacher in Kharkiv.
Alliance2015 funded a second consortium to reach a wider range of people and target needs not yet addressed by initial response activities. This type of humanitarian crisis will continue even after armed conflicts have ended — in particular, its effects on people's psychosocial well-being. In order to respond to such longer-term needs, CESVI, as a stakeholder of Joint Emergency Response in Ukraine together with Concern and Welthungerhilfe, is providing protection-oriented intervention to promote the psychosocial well-being of crisis-affected people and social resilience. 
A humanitarian crisis beyond borders: each member is taking action
PIN was the first member of Alliance2015 in country. Since February, PIN's teams have been providing food kits and hot meals to IDPs. PIN's support also focuses on access to water sanitation and hygiene. To help people face winter, the organization offers bedding sets, heating supplies, and shelter material, and also rehabilitates roofs and windows. PIN provides cash assistance and also works to rehabilitate schools, creating child-friendly spaces and providing psychosocial support through their mobile teams. PIN's action is essential, but would be impossible without the vast network of local CSOs working with their teams.
ACTED, organised the transport of hundreds of tons of donations through convoys departing from France. Through partnerships with over a hundred local CSOs, ACTED supports the provision of technical assistance such as mental health and legal support. ACTED's expertise in winterization allowed the rehabilitation, window repair and replacement and distribution of generators to face the hardest months of the year. To respond to the needs of refugees beyond Ukrainian borders ACTED launched emergency teams creating operational bases in Poland, Romania and Moldova to the transport of people crossing the border, especially for the elderly. Refugees were provided with hot meals, sim cards, and access to shelter.
Ayuda en Acción has no presence in the area, but the organization directly supported the intervention of its partners in Moldova and Ukraine through a fundraising campaign. Ayuda en Acción has worked directly with ACTED in Moldova to deliver essential goods to Ukrainian refugees, including food, hygiene kits, diaper kits, clothing, toys, and milk for children.
CESVI initiated operations once the flow of refugees into neighbouring European countries intensified. In Poland (Lublin), it activated a shelter project for women fleeing the war with young children, providing food, accommodation and support. In Romania, it welcomed women who chose to stay at the border with their children in the hope of returning home. CESVI offered educational services and psychosocial support. It supported refugees in transit with first reception and distribution of meals. In Hungary, CESVI provided overnight shelter and a kindergarten for children.
Since May, Welthungerhilfe has delivered in-kind assistance (food and shelter Non-Food Items (NFIs)) through the consortium with CESVI and Concern. Multipurpose cash and winterization assistance has been carried out to support vulnerable IDPs in Khmelnitsky, Ternopil, Kharkiv, Poltava, Kirovohrad, Dnipropetrovska, and Zaphorizhzhia oblasts. Since March, the project has reached over 60,000 people with assistance.
Helvetas is working with the Swiss organization SKAT and DESPRO, a Ukrainian organization, to repair water infrastructure and rehabilitate war-damaged residential housing for thousands of people. Helvetas will expand its operational presence and activities in Ukraine in 2023, and will begin working in Ivano-Frankivsk and Ternopil to improve living conditions in IDP shelters, partner with vocational training facilities to scale up their offerings, and organize repair hubs that provide access to information, training and equipment to individuals as they try to rebuild their homes.
What Ukrainians have to face every day resonates throughout Europe and has an impact in different regions around the globe. Ukraine was the grain basket of Europe, and many countries in the African continent that depend on its exports have now suffered tremendously from the war. Food crises, shortages, access to resources … this humanitarian crisis is ricocheting into other ones all around the globe. While the focus to resolve the Ukraine conflict and respond to the needs must not lose momentum, it cannot be forgotten that other crises are arising — whether they are linked or not —and deserve just as much dedication and attention. The Alliance2015 members have responded to the unprecedented drought in the Horn of Africa, and, most recently, supported the population affected by the earthquake in Turkey and Syria — all while continuing our efforts in Ukraine.