After a difficult peace agreement between Ethiopia and Eritrea in 2018 that put an end to a conflict that lasted twenty years, the situation has once again worsened due to the very recent outbreak of the conflict in the Tigray region, where Cesvi works with Alliance2015 partner Helvetas.
Ethiopia is a state in the Horn of Africa, located on the eastern side of the continent, that has a population of over 100 million inhabitants. In recent years, Ethiopia has recorded the fastest economic growth among African states since 2007 (International Monetary Fund). But despite this it still continues to be one of the poorest countries in the world.
There are various causes. For example agricultural productivity is very low due to climate change: an acute drought and inappropriate agricultural practices put the food security of millions of people at risk. Also, intense deforestation activities throughout the Nation caused serious repercussions on the living conditions of people and animals.
All of this combined with the instability of the region. After a difficult peace agreement between Ethiopia and Eritrea in 2018 that put an end to a conflict that lasted twenty years, the situation has once again worsened due to the very recent outbreak of the conflict in the Tigray region, where Cesvi works with Alliance2015 partner Helvetas.
For decades, Ethiopia has also been a land of countless migratory flows that have made the life of local communities difficult and unstable. As a matter of fact, Ethiopia is seen as a country of origin, transit and destination of refugees and migrants. Due to its geographical position it is located at the center of the three main African migratory routes: the Northern route, which, crossing Sudan and Libya, represents the gateway to Europe; the Eastern route, which allows migrants to reach Yemen and the Gulf countries via Djibouti and Somalia; and finally the southern route, directed to South Africa.
Ethiopia welcomes and hosts many refugees who decide to settle permanently in this Country. Currently it is the second country in Africa in terms of the number of regularly registered refugees: 744,143 (UNHCR, January 2020).
In this difficult context Cesvi, together with Alliance2015 partner Helvetas, has created the project "WEALTHS: Integrated Services in WASH, Environment and Livelihood sectors in Tigray – Hitsas and Shimelba Refugees Camps and Neighboring Communities", co-financed by AICS (Italian Agency for Development Cooperation), to support refugees and host communities by guaranteeing access to resources for all and maintaining social stability. In the Shimelba and Hitsas camps, 4 new groundwater wells, 2 public rainwater collection systems and more than 200 new latrines between displaced camps (at various homes) and host communities (at schools or other buildings) were built; as well as 300 rehabilitations of individual latrines in displacement or refugee camps.
Also, support is provided for start-up income-generating activities for 160 refugees and members of the host community, of which about 40% are women. Among these is Nuru Bichenso (29), a guest in the Shimelba camp in Tigray in Ethiopia since 2017. Nuru is originally from Gash Barka in Eritrea, where she lived with her mother and children selling goods in the weekend markets. Nuru is the only guardian of her four grandchildren who live with her, as her sister passed away years ago.
Nuru was forced to leave her Country to escape prison, to which she would have been destined if she had not escaped: her granddaughters had tried to leave Eritrea, but had been arrested once they reached the border. As their guardian, Nuru would have been arrested. Escaping to Ethiopia and leading a refugee life was the only way to survive.
Today she is one of the refugees who, through the Cesvi and Helvetas project, have been provided with training courses related to management of entrepreneurial activities. After successfully completing the training program in Nuru, she was given approximately $ 300 of materials to start a small business at her home in Shimelba camp. "My mother is very sick. This project allowed me to open my own home business so that I could be close and take care of her while I work. "Also, thanks to the support of Cesvi and Helvetas, her children attend school. « I want to make sure that we stay all together. I want to help my children to have a good education, to be safe and healthy ».
The project provided other training related to agriculture, irrigation and entrepreneurial skills to encourage agricultural production in fields of small lands with access to micro irrigation, to create economic self-sufficiency and a connection with the local market.
Many refugees took part in it such as Samson Tsehaye, a 48-year-old Eritrean who lives in Hitsas, one of the four refugee camps hosting refugees in Tigray. Samson is a father of five, and he arrived in the field with his family at the beginning of 2019: now he has a small farm, where he grows papaya, tomatoes and other fruits to sell in refugee camps and in the host community.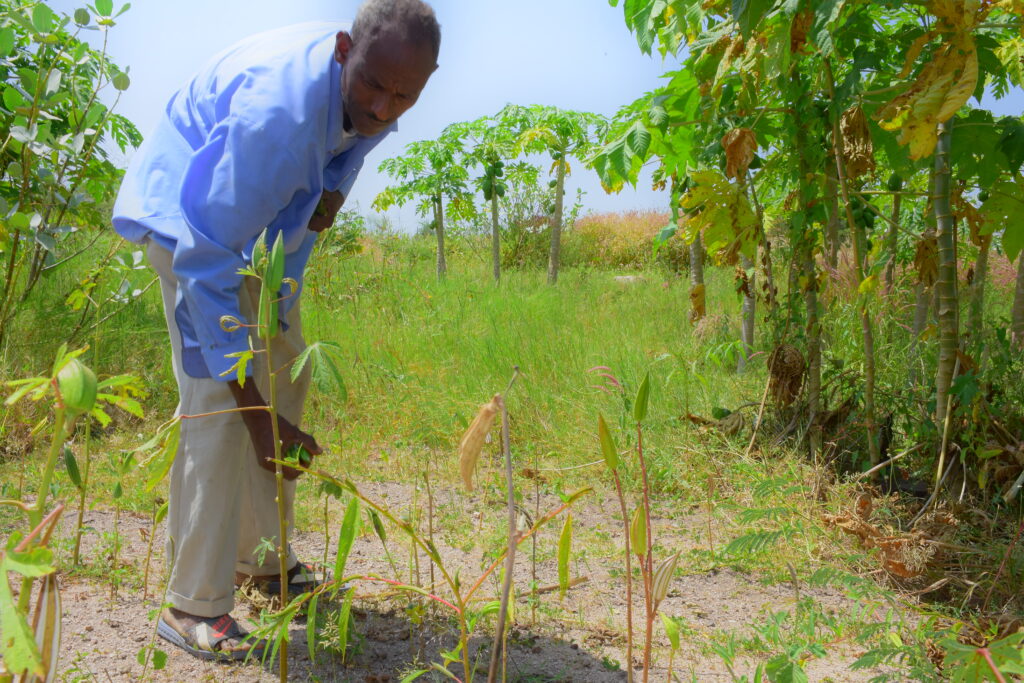 Samson participated in two training courses to improve his agricultural skills and technical knowledge, as well as his knowledge of economy and finance.
Subsequently, he received agricultural equipment, motors to pump water and specific seeds to start production. This helped him feed his family and improve their livelihood.
Samson actually became a farmer in Hitsas: "The first few weeks after we arrived I started helping one of the farmers by the stream." One day the farmer decided to leave and, to show his gratitude, transferred the ownership of the small land to Samson and his family. "I've been working on this farm for over a year now. My neighbors think I have been doing it for years, but I have never done this job before.- he continues – You can do anything, you just have to take one step at a time and you can always learn».
«I also opened a small shop where we sell the products of the fields. I also rented a land near the farm where I will plant onions and other vegetables to make sure my children have an adequate nutrition and a better future. "