When the 2030 Agenda for Sustainable Development and its 17 Sustainable Development Goals (SDGs), were adopted in September 2015 by all Member States of the United Nations, Iraq was busy fighting terrorist groups and handling the repercussions of the falling global crude oil prices.
Nevertheless, Iraqis never stopped aspiring to a better future.
What are the development challenges in Iraq?
Clearly, Iraq still faces many challenges on the road to sustainable development. Iraq has yet to secure political stability, strengthen national dialogue and establish inclusive and accountable governance frameworks at federal and local levels. Iraq needs to deal with significant demographic pressures, the water crisis and the effects of climate change. However, all these challenges shall motivate us to accelerate efforts with greater determination and expand partnerships to consolidate gains, while learning from past failures.
How does Alliance2015 help?
Beekeeping as a profitable venture
Mr. Shamo* is living in Shehabiya village close to Sinjar city, which has been severely affected by the ISIS invasion in 2014. Larger part of the city has been destroyed by the war. Debris of the buildings that remain throughout the city, showcases the severity of war it experienced. Sinjar city has become a quiet and silent place with deserted streets, as many of the inhabitants have not returned yet. Some of the reasons for less returns of inhabitants are that public amenities have not been fully restored yet, there are less employment opportunities, markets are not yet fully functional, and there is lack of basic facilities such as water and electricity.
In this context, Alliance2015 members Welthungerhilfe, ACTED and PIN, in consortium with PAH, are implementing a project funded by EU MADAD Trust Fund to support the conflict affected people in Sinjar district to resettle and improve resilience. This project supported around 950 families around Sinjar city to restart their agriculture ventures.
Shamo is 46 years old, married and father of seven children; 4 of them are still in school. He was involved in sheep farming and bee keeping before 2014 and was making good income for the family. However, thousands of families were displaced once ISIS seized the area in August 2014. Shamo also fled the area with his family, taking rescue in Sinjar mountains for few years. " The conflicts affected me a lot because I lost 25 sheep and all my bee boxes and all furniture in my house" says Shamo. He has nothing left once retuned to restart his life as everything was destroyed. "I started working as a daily laborer in construction work in Sinjar and was able to earn around 10,000 – 15,000 Iraqi Dinar (around 10 USD) per day, which is insufficient to run the family". Two of his sons also started working as daily laborers to support the family. However, it is difficult to find daily work in Sinjar, as many people are unemployed.
Shamo decided to attend the training on bee keeping conducted by Welthungerhilfe with the expectation of restarting his bee keeping venture. 45 other farmers also joined him for bee keeping training. He attended one-week training on bee keeping in August 2019. This training consisted of theoretical and practical sessions. Shamo has never formally learnt about bee keeping even though he was involved in beekeeping earlier.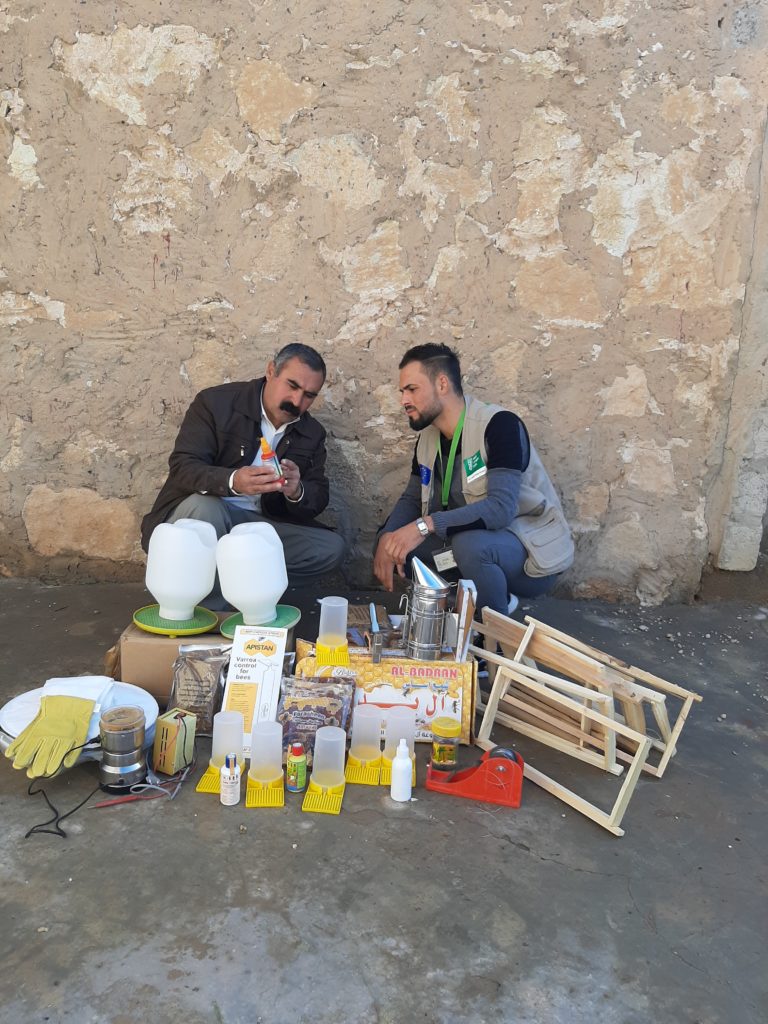 " It was a good experience for me. I learnt scientific methods of handling a beehive, the importance of feeding them during the off season, and the usage of bee wax during the training".
Shamo received 550 USD as a grant from the project after he completed the four days training. "I bought bee boxes, bee sugar, medicine, bee wax and other necessary equipment to restart the bee keeping venture". He expects to earn a good income from bee keeping as one kilogram of honey is sold around 40 USD in the area. There are two seasons per year and Alyas is ready to harvest in the upcoming season. "Next season will be in February- March and each box is expected to produce around 5-7 kg of honey". It will be a good income source for the family of Shamo.
Written by Honar Hasan and Jayashanka Basnayake/Welthungerhilfe
*name has been changed